Rice Balls (Mote Lone Yay Paw)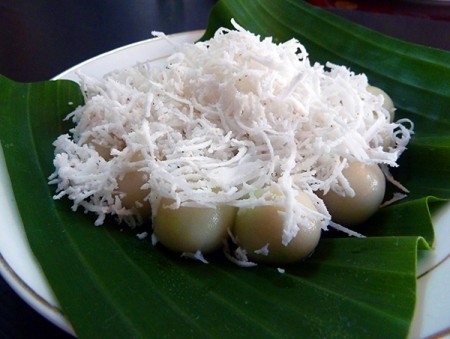 Mote Lone Yay Paw is a traditional sweet rice balls. The name says food that float on water, in Myanmar language. It is usually stuffed with palm sugar. The food is often served during the celebration of Myanmar New Year which is also know as Thingyan Festival. During the festival, which includes throwing water at each other, some youngsters, in sprite of teasing each other, stuff hot chillies in rice balls instead of palm sugar. Mote Lone Yay Paw is often served with grated coconut.
Ingredients
glutinous rice flour – 800 g
rice flour – 200 g
coconut – 1 (grated)
water – 1 cup
Apple flavor color – 1/2 teaspoon (optional)
plam sugar – 200 g (cut into cubes)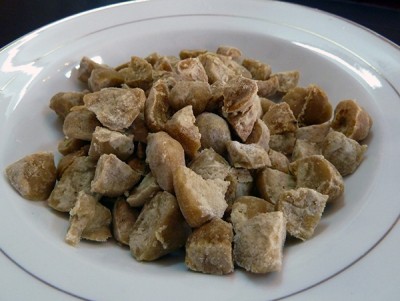 Directions
1. Sift glutinous rice flour and rice flour in a large bowl and mix thoroughly. If you want to add color, you can add 1/2 teaspoon of apple flavor color.
2. Add 1 cup of water in the mixture and knead well until the dough is smooth.
3. Scoop small doughs, roll into balls and fatten.
4. Place a chunk of palm sugar in the center of flat circled dough and put back dough into a ball shape.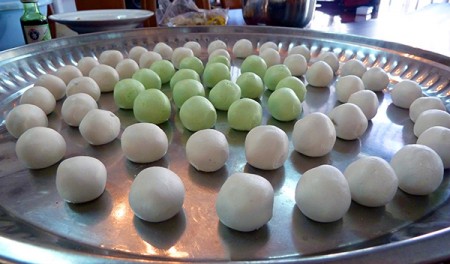 5. Boil water in a large pot. Once boiling, drop in the balls.
6. The balls will float to the surface when cooked.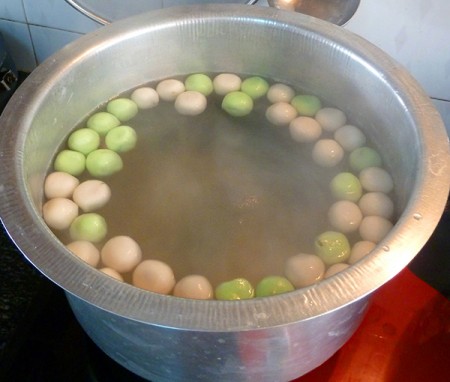 7. Take out the balls and put them on banana leave or plate.
8. Spread grated coconut on rice balls and serve hot.