Lentil Soup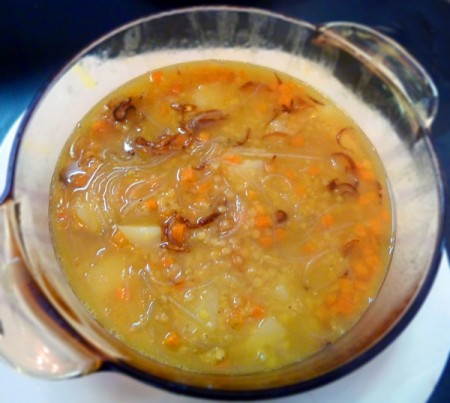 Original Myanmar Lentil soup does not includes carrot, potatoes and bean vermicelli. But if you want to add, you can. Lentil soup is sweet and tasty. Mostly Myanmar curries go well with the lentil soup.
Ingredients
1 cup of red lentils
1 medium carrot, sliced
2 large potatoes, peeled, cut into cubes
bean vermicelli – 100 gram (boil in water until cooked)
1 large onion, sliced
1 tbs of fried onion
2 cloves of garlic, sliced
1 ts ginger, minced
1 bay leave
2 ts of salt
2 ts of chicken powder
1/3 ts tamarind
7 cups of water
Directions:
1. Heat oil in a pot. Fry onion, garlic and ginger until fragrant.
2. Add tamarind and stir well for half minute.
3. Add water to the pot and boil it.
4. After the water is boiling, add red lentils, potatoes, onion and carrot, and simmer until lentils are very soft.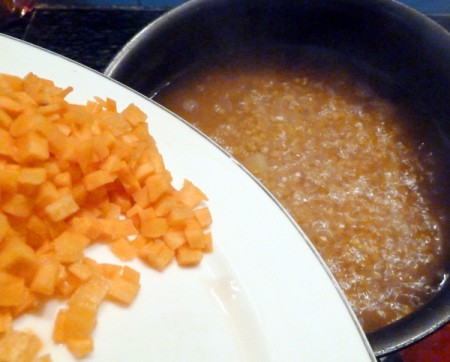 5. When lentils are soft, add bean vermicelli, bay leave, salt and chicken powder.
6. Finally add fried onion and served hot.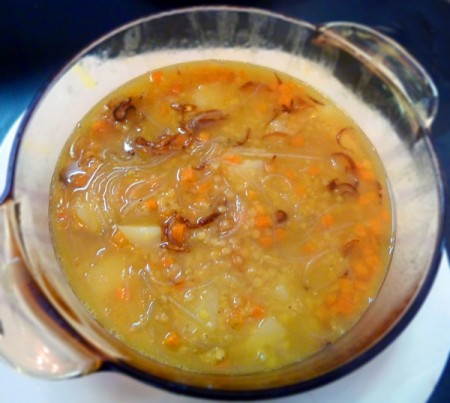 ——————————————————————————————–